Canadian film: investment and return
Strategic objective

Invest in audiovisual industry to attract other forms of financing
Key performance indicator
Percentage of overall project budgets financed by Telefilm vs. other sources
Target
Maintain or increase percentage of financing from other sources while decreasing Telefilm's financial participation
2008-2009 results
Due to the global financial crisis, Telefilm's share of overall budgets went up in feature film (from 31% to 37%)
2009-2010 results
Telefilm's share of overall budgets held steady
Broadcasters raised support for feature film
2010-2011 results
Telefilm's share of overall budgets down to a favourable 31%
Foreign financing up from 5% to 13%
Canada Feature Film Fund - Financial Analysis (2010-2011) - Production - New contracts only *
---
Number of projects
Budgets *
($M)
CFFF
%
Broad-
casters
%
Canadian Private Sector
%
Distributors and Exporters %
Other Govern-
ment Sources %
Foreign Participants
%
French
19
76.5
31
2
6
8
48
6
English
29
135.8
31
2
16
9
25
16
Total
48
212.3
31
2
13
9
33
13
*Does not include the foreign share ($39.9 million) of official coproduction budgets in which Canada is a minority partner.
Source: Telefilm's database, figures are rounded.
---
The leveraging effect of our investments
The CFFF investments leveraged production budgets of $212.3M. These investments have contributed to the economic prosperity and development of a vital industry across Canada. The feature film industry is labour-intensive because of its prototype nature; each film is different from the next. Therefore, a high proportion of all spending is paid directly in salaries. It is estimated that the CFFF investments have contributed to the creation or the maintenance of the equivalent of approximately 5,000 full-time jobs, of which 2,000 are directly linked to production activities.
The leveraging effect of our investments – including coproduction investments, sales by linguistic market and sales by platform – are all-important indicators for an industry that has traditionally measured success at the box office alone. As a priority over the next year, Telefilm will work with stakeholders and partners to ensure that its measures of success reflect today's multiplatform reality. Telefilm must also find better ways to capture usage data from all measurable platforms, and include newer online platforms that remain unmeasured such as iTunes and Netflix.
In 2010-2011, Telefilm was able to support the production of 48 projects across Canada – five more than 2009-2010. Our financial commitment dropped from $66.8M to $65.2M year-over-year. In other words, we were able to support five more projects with $1.6M less investments.
English-language Feature Films
French-language Feature Films
Antiviral
Blackbird
Breakaway
Charlie Zone
Cosmopolis
A Dangerous Method
Donovan's Echo
Down the Road Again
Edwin Boyd
Entitled
Foreverland
French Immersion
Goon
The Guys Who Move Furniture
Hobo with a Shotgun
Keyhole
Midnight's Children
The Moth Diaries
The Odds
Passionflower
Mulroney: The Opera
The Replicas
Roller Town
Rose by Name
The Samaritan
Servitude
This Movie is Broken
Trigger
Winnie


L'appât
Monsieur Lazhar
Le bonheur des autres
Une bouteille dans la mer de Gaz
Café de Flore
Décharge
En terrains connus
French Kiss
Laurence Anyways
Marécages
Memories Corner
La peur de l'eau
Pour l'amour de Dieu
Le sens de l'humour
Starbuck
Sur le rythme
Le vendeur
La vérité
Une vie meilleure
---
Our investments in 2010-2011
Financial analysis of film production (both linguistic markets)
---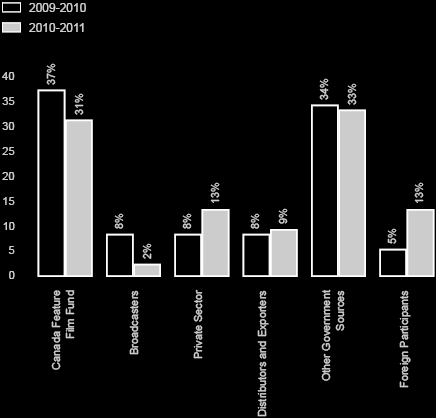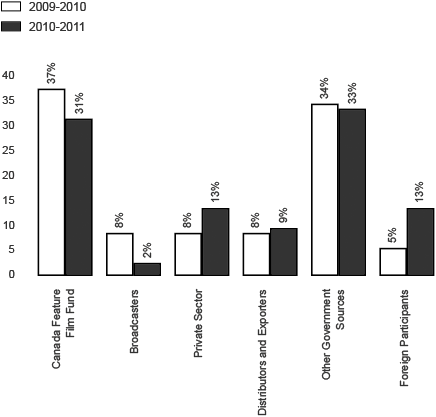 Source: Telefilm's database, figures are rounded.
Telefilm's early investment in Canadian film projects enhances a producer's ability to attract additional financing. This past year, the CFFF represented 31% of all budgets – a three-year low.
The majority of alternative investment comes from the Canadian private sector (up from 8% to 13%) and from foreign sources (up from 5% to 13%). Distributor/exporter financing was up slightly year over year. Meanwhile, financing from television broadcasters has decreased from 8% to 2% since last fiscal.
---
Public vs private funding
Public vs private funding (in % of budget)
---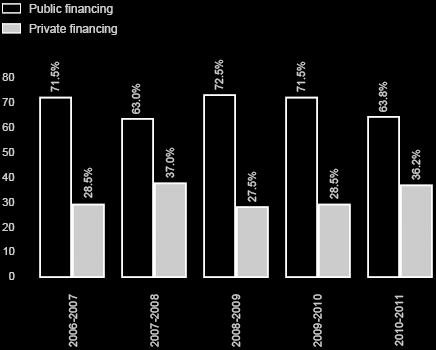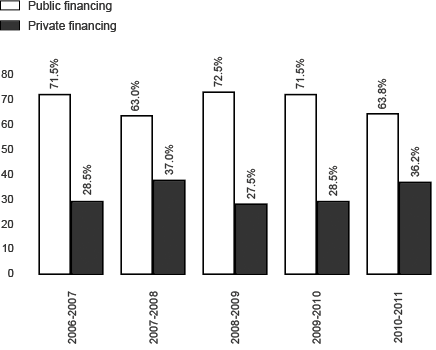 Source: Telefilm's database - CFFF 2006-2011
Public financing has made up about two-thirds of production budgets over the past five years. Public financing includes the CFFF plus provincial film agencies and other government sources. Private investment lagged in 2009 and 2010 due to the global financial crisis, but has now climbed back to 2008 levels. Coproductions also benefited from a better investment climate.
---
Leveraging through coproduction investments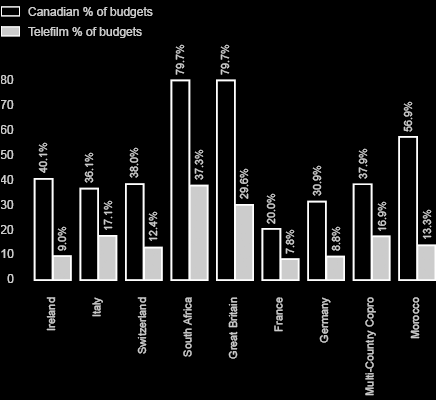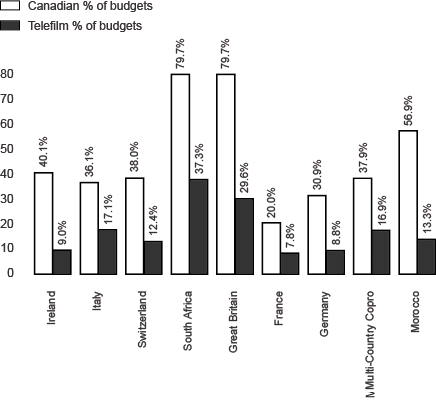 Source: Telefilm's database, 2006-2011
Since 2006, Telefilm has committed over $70M to Canadian producers involved in international minority and majority coproductions. During the past five years, almost $287M of foreign financing from 14 different countries has been invested in coproductions with Telefilm participation, representing a total of 56% of all financing.
Most coproductions have higher budgets – on average, $11.5M vs. $5.5M for all-Canadian productions. Pooling resources with other nations can generate more financing, and this often gives Canadian producers the opportunity to participate in higher-profile projects.
---
Our partners
Coproduction partners from 2006-2011
# titles
Total commitments
France
15
$ 17.6 M
Great Britain
6
$ 13 M
Italy
3
$12.3 M
Ireland
4
$ 10.5 M
Multi-Country
9
$ 6.5 M
Germany
2
$ 5.6 M
South Africa
2
$ 3.3 M
Switzerland
2
$ 1 M
Morocco
1
$ 0.2 M
Source: Telefilm's database
Canadian producers partnering with France and the U.K., our largest coproduction partners (and official language matches), received over $30M of our funding in the past five years.
Some French-language investment also goes to Canadian producers who are working with African and Swiss partners. English-language investments are more diverse with coproduction partners including non-English-speaking countries such as France, Germany and Italy.
Minority coproductions represented 24 of 44 of the productions to which Telefilm committed funds. Minority coproductions are an important way to strengthen partnerships and build relationships internationally. This past year, Telefilm's commitments were equally balanced between minority and majority coproductions.
The following graph demonstrates a recovery in coproduction's activities. After an important drop in activity, coproduction investments rose to 58.6M this fiscal.
Canadian financing of coproductions in which Telefilm invested ($M)
---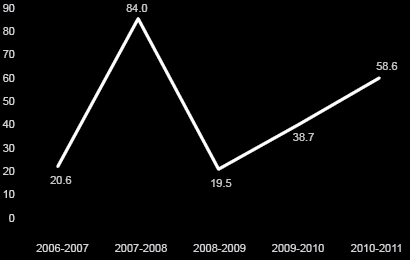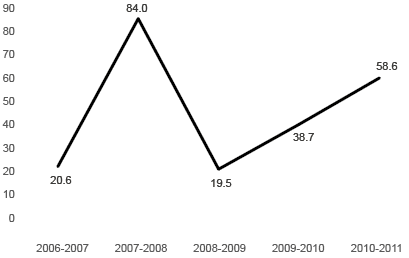 Source: Telefilm's database
Life cycle of sales
CFFF sales per year after financing
---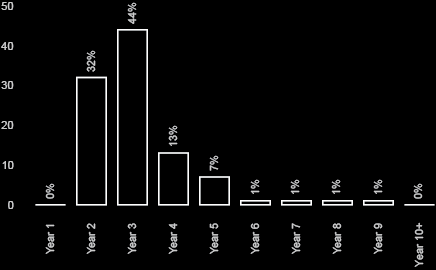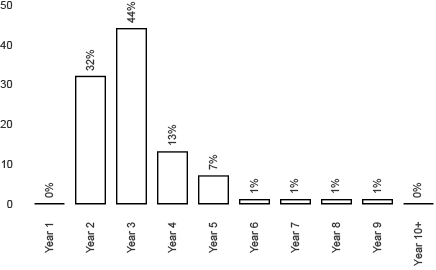 Source: Telefilm's database
Statistical analysis lets us track the sales life cycle of films supported by the CFFF. The bulk of sales takes place in years two, three and four after CFFF financing is granted by Telefilm. In fact, this three-year span accounts for 89% of total sales.
---
Sales by linguistic markets
Gross sales by territory ($M)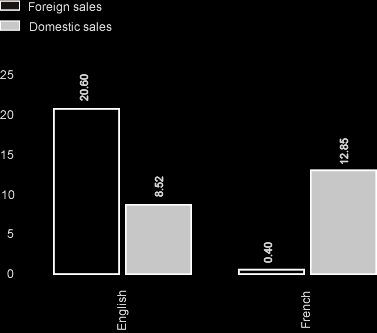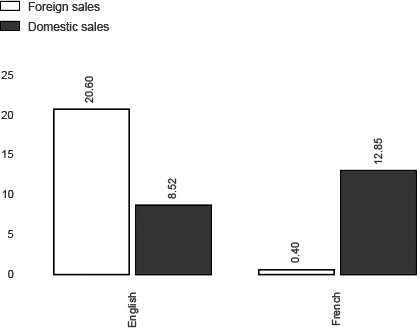 Source: Telefilm's database
Whereas English-language films generated almost three-quarters of their sales in foreign markets, French-language films generated their sales in the domestic market.
Within the domestic market, we find that theatrical release and home video together still dominate domestic sales, accounting for two-thirds of French-language films and over half of English-language films.
---
Sales by platforms
Domestic gross sales by platform
---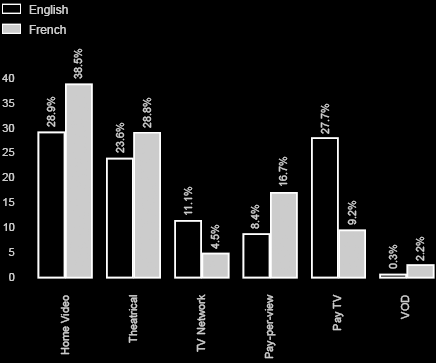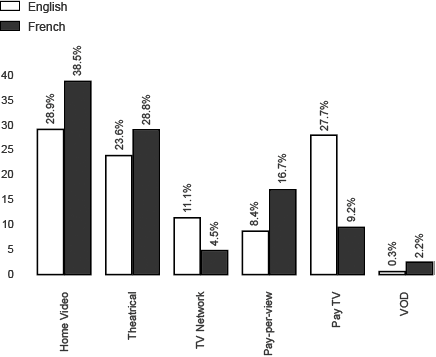 Source: Telefilm's database, figures are rounded.
Sales to television networks and cable services such as pay TV and pay-per-view still combine to represent almost half of domestic sales for English-language films and almost a third for French-language films. Video-on-demand is still in its infancy with a small share of sales.